Page content
First Year Connections Team
The First Year Connections team makes meaningful connections between current second-year Ohio State students and incoming first-year students to help them successfully transition through their first year at Ohio State. The First Year Connections Team accomplishes this through establishing mentoring relationships and programs designed to connect students to resources, traditions and opportunities. Programs run by the First Year Connections Team include the Scarlet Scramble, a peer mentoring program and participation in other university events for first-year students.  
Meet the members of the First Year Connections Team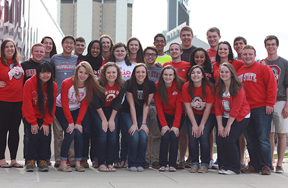 Peer Mentor Groups
Are you a first-year student looking to make friends with other new students? Sign up to join one of the First Year Connections Team mentor groups! Meet with a small group of other first-year students led by second-year student leaders. Groups will meet once a week to learn about Ohio State traditions and resources.

To sign up, go to scarletandgray.osu.edu and use access code FYCTMentor. Sign up by September 10.
Scarlet Scramble
Save the date: March 27-28, 2015
Check back for details in January 2015.
Questions?
Contact Ryan Provost, 614-688-0969.