Page content
Focusing on the First Year Conference

Tuesday, January 24, 2023
8:30 a.m. to 3 p.m.
Ohio Union, check-in and opening at Archie Griffin Ballroom (East)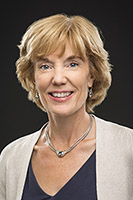 Keynote speaker
The 2023 keynote speaker will be Laura Perna. Laura W. Perna is Vice Provost for Faculty, GSE Centennial Presidential Professor of Education, and Executive Director of the Alliance for Higher Education and Democracy (AHEAD) at the University of Pennsylvania. Her program of research focuses on identifying how social structures, educational practices and public policies promote and limit college access and success — particularly for students from groups that are underrepresented in higher education.
She earned a PhD in education and a master's in public policy from the University of Michigan and bachelor's degrees in economics and psychology from the University of Pennsylvania. She is a member of the National Academy of Education, fellow of the American Educational Research Association and past president of the Association for the Study of Higher Education.
Register now!
Registration is now open and will close on January 9, 2023.
The cost to attend is $35 per person, which can be paid via Workday. Please register for the conference and then submit a non-catalog requisition with First Year Experience as the supplier (SPL-0000117). Please note the name(s) of the registrant(s) in the Memo to Suppliers field on the requisition.
Nominate an Outstanding First Year Advocate
First Year Experience will honor an individual who has demonstrated a passion for helping students make the most of their first year, fostered personal connections with or among first-year students, implemented policies that helped make first-year student success possible and served as a resource to new students.
Staff and faculty are encouraged to nominate exceptional peers for this award. Nominees will be evaluated based on the following criteria:
Demonstrates a commitment to helping first-year students succeed in academic, co-curricular and personal arenas
Collaborates with colleagues across campus to build relationships with new students and implements policies or programs that positively impact first-year students
Uses innovative practices to engage students and contributes to first-year student learning
Seeks to recognize multiple aspects of the first-year experience and develops students in a holistic manner