Page content
First Year Connections Team
The First Year Connections team makes meaningful connections between current second-year Ohio State students and incoming first-year students to help them successfully transition through their first year at Ohio State. The First Year Connections Team accomplishes this through establishing mentoring relationships and programs designed to connect students to resources, traditions and opportunities. Programs run by the First Year Connections Team include the Scarlet Scramble, a peer mentoring program and participation in other university events for first-year students.  
Meet the members of the First Year Connections Team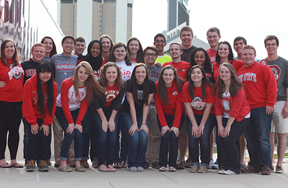 Joining the First Year Connections Team
Members of the First Year Connections Team are expected to build connections with both individual students and groups of first-year students and work well in teams to plan events, facilitate discussions and develop leadership skills. First Year Connections Team members will serve for one calendar year, from April 7, 2014 to April 15, 2015, with the majority of responsibilities occurring during autumn 2014 and spring 2015. Commitments will include:
Weekly meetings on Wednesday evenings from 6-7:30 p.m. during autumn 2014 and spring 2015
Weekly peer mentor commitments (at least 1 hour) based on availability
Committee duties (Scarlet Scramble, peer mentors, recruitment and selection)
2015 Scarlet Scramble (tentatively March 27-28, 2015)
Qualifications

Be rising second-year students at the beginning of the 2014 autumn semester
Be in good academic and disciplinary standing and demonstrate success at Ohio State
Possess a desire to work with incoming first-year students, a love for Ohio State and an ability to make meaningful connections with others which support their success.
Have a general knowledge of university resources and procedures (training will provide additional knowledge)
Professional outcomes and personal benefits
Interact in a positive and resourceful manner with new students as a resource and mentor
Strengthen facilitation and leadership skills through work in small groups and with individuals
Develop a stronger understanding and awareness of theories, approaches and programs related to first-year students and successful transitions
Cultivate lasting relationships with first-year students
Explore leadership qualities and involvement while a student at Ohio State
Share personal expertise and your student experience with a group of incoming first-year students in a real-life setting
Apply by February 3
Apply online at goo.gl/VVqMX8. Applications will be reviewed by current FYCT members, and applicants will be notified to sign up for an interview by February 13.
Questions?
Contact Ryan Provost, 614-688-0969.