First Year Connections Team
The First Year Connections Team (FYCT) is made up of a select group of students enthusiastic about Ohio State and the continued success of first-year students. Connections Team members serve as extensions of the FYE staff and receive a unique opportunity to develop professional public speaking skills, organize a variety of campus events, and interact in meaningful ways with the first-year class.
Meet the members of the First Year Connections Team
Check out the connections team blog: connectionsteam.wordpress.com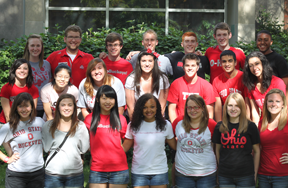 Joining the First Year Connections Team
Join the First Year Connections Team and help next year's class of new Buckeyes love Ohio State as much as you do!

Commitment: All First Year Connections Team members must participate in the spring semester retreat and training session and a mandatory autumn semester training session. The Connections Team assists in executing the President's Convocation, Success Series events, the First Year Distinguished Speaker Series, Buckeye Book Community events, and numerous other first-year activities. The Connections Team will also plan first-year success series sessions in the fall as well as the Scarlet Scramble 2014 in the spring. The group typically meets weekly during autumn semester with meetings possibly reducing to every other week during spring semester. Students will spend 2-5 hours a week on the Connections Team.
Eligibility: All team members must be of second-year standing by the autumn semester following acceptance to the Connections Team. Students must be in good academic and judicial standing with the university. GPA will be considered for all applicants. Connections Team members serve for one year.
Application:To apply to be a member of First Year Connections Team, follow the instructions below. The application will close on February 13, 2013. The application is in the form of a survey within the Carmen shell.
Visit Carmen and log in using your name.#.
Select the Join link from the gray menu bar (the bar starts with Welcome [Your Name]!).
Select the Join link toward the bottom of the screen.
Navigate the list to select First Year Connections Team Application.
Follow the instructions to confirm enrollment.
The course should appear as an ongoing course in your Carmen homepage under the header Enrollment Services Undergraduate.
Questions? Contact Daniel MacKenzie.