Page content
Focusing on the First Year Conference
Friday, February 3, 2017
7:45 a.m. Check in and breakfast
8:30 a.m. to 4:15 p.m. Conference
Focusing on the First Year Conference brings together faculty and staff from across the Columbus and regional campuses to focus on the university's efforts to support the success of first-year students. The most important foundations for college success, and ultimately graduation, are built during the first year. Hosted by First Year Experience each spring semester, the conference is designed to encourage faculty and staff to share ideas about helping first-year students transition successfully to college life at Ohio State.
Register by Monday, January 23
The cost for attendance is $30 for the full conference or $20 for the afternoon option (which begins with lunch at noon and the two afternoon sessions until 4:30 p.m.). We encourage you to submit your conference payment via eRequest after registering. If paying by credit card, you will find instructions in your registration confirmation.

Within the registration form, you will be asked to note any dietary restrictions. Following registration, you will be emailed a confirmation with detailed event information.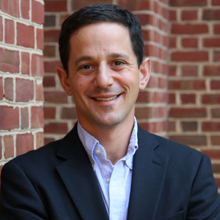 Keynote
Ben Castleman
Assistant professor of education and public policy
University of Virginia
Ben is the founder and director of the Nudge4 Solutions Lab at UVA, which develops scalable solutions in education and public policy by leveraging behavioral insights, data science, interactive technologies, and deep practitioner partnerships. Ben is also the faculty director of the UVA-US Army Partnership on Veterans Education. He is a senior advisor to First Lady Michelle Obama's Reach Higher Initiative, where he leads Up Next, a national mobile messaging campaign to improve college, financial aid, and loan repayment outcomes for young Americans. Ben has presented about his research at several White House convenings and in testimony before Congress.
Ben's research has appeared in top public policy and economics journals, including The Journal of Labor Economics, The Journal of Policy Analysis and Management, and The Journal of Human Resources. Ben's research has been generously supported by numerous philanthropic foundations and has received extensive media coverage, including The New York Times, National Public Radio, Time Magazine, and the Washington Post.
Ben is a graduate of Brown University and completed his doctoral work at Harvard University. Before returning to graduate school, he was a public school teacher and administrator in Providence, RI.
Learn more about Dr. Castleman and his work and about the Nudge4 Solutions Lab.
Descriptions of sessions
Read session descriptions for each breakout session.
First Year Advocate Award nominations
University Orientation and First Year Experience exists to help all new students get started, make connections and get answers. We are proud of the faculty and staff members across campus who contribute to this mission and who help students find academic and personal success during their first year. During the conference, we will honor up to three individuals who have demonstrated a passion for helping students make the most of their first year, fostered personal connections with or among first-year students, implemented policies that helped make first-year student success possible and served as a resource to new students. Staff and faculty are encouraged to nominate exceptional peers for this award. Nominees will be evaluated based upon the following:
Demonstrates a commitment to helping first-year students succeed in academic, co-curricular and personal arenas
Collaborates with colleagues across campus to build relationships with new students and implements policies or programs that positively impact first-year students
Utilizes innovative practices to engage students and contributes to first-year student learning
Seeks to recognize multiple aspects of the first-year experience and develops students in a holistic manner
To nominate a colleague, complete the nomination form by December 16. Contact Jenny Osborn if you have questions or to request additional information.